The affordable, easy-to-manage web solution for higher ed

We put decades of UX expertise to work to optimize your content and get you online quickly with Lectronimo®.
Create a User-Centered Web Presence in 6 Easy Steps:
1. Brainstorm with our expert content strategists
2. Create an inviting look to support your brand
3. Customize your content structure in the CMS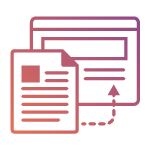 4. Master our robust content management tools
5. Test, troubleshoot, and go live within weeks
6. Manage and evolve with expert guidance
Built by a Leader in Higher Ed Research, Strategy, and Service
Lectronimo was created by Digital Wave®, a web consulting agency driven by user interaction and engagement. We've specialized in higher education since the mid-2000s, and have worked on web presences with a range of pioneering schools, from small community colleges to large state-wide universities.
Solving the Challenges of Higher Education Institutions
See Lectronimo in Action
Get a behind-the-scenes tour with a live demo to see how easy managing your website can be.